Our Propane Services in North Carolina & Southern Virginia
Whether you're in Yanceyville, NC, Thomas Brothers is the name you can trust for your propane deliveries and service!
Propane is quite a popular choice for fuel with homeowners here in northern North Carolina and southern Virginia.
There's good reason for that. With propane, you get reliability, efficiency and versatility that you just can't get from any other fuel source. It's a low-carbon alternative fuel that burns cleanly and produces significantly fewer greenhouse gas emissions than most other energy sources. In addition, propane is also a non-poisonous, non-toxic fuel, that won't contaminate soil or groundwater, making it safe to use anywhere. And with Thomas Brothers, you get all of that along with dependable propane delivery and service from a family-owned local company.
Inside and outside your home, propane makes life easier, safer, more comfortable and more fun!
What are some of the ways propane helps improve my home comfort?
Propane heats your home fast, with even heat. And you also get amazing energy efficiency. Today's high-efficiency propane furnaces and boilers reach efficiencies up to 98 percent. That means 98 cents of every dollar you spend on propane for heating your home actually goes toward heating your home.
Water Heating
Compared with electric water heaters, propane water heaters use less energy and have lower operating costs. And, propane tankless water heaters not only give you that efficiency and savings, but also endless hot water whenever you want it.
Cooking & Grilling
Go into a restaurant or turn on a cooking show, and the vast majority of chefs are using a gas range or cooktop. With propane gas, you get precise, instant temperature control and even heating. These are things you don't get with an electric range, so you get better results when you cook! And you can have that no matter where you live when you use propane because you're not dependent on a utility's gas lines.
Fireplaces & Space Heating
No more carrying in wood, building a fire, or dealing with cleaning up soot and ashes when you want to relax by the fire. With a propane fireplace or freestanding stove, just flip a switch or press a button and you have fire. For unheated or poorly heated spaces like your sunporch or garage, propane space heaters can provide year-round comfort as well!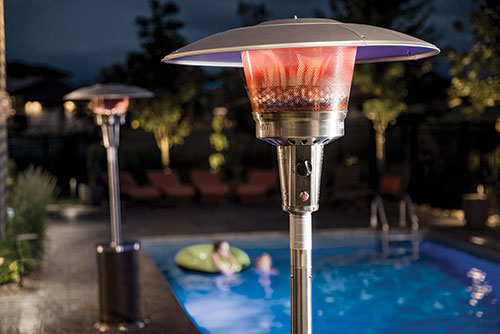 Backyard Appliances
Propane does a great job at running your BBQ grill. But that's only the beginning of what it can do for your outdoor living! We sell propane patio heaters and fire pits to let you enjoy your backyard even if there's a nip in the air. You can also use propane for pool and spa heaters, outdoor fireplaces and mosquito traps.
We're the local, go-to propane supplier you can trust!
With all of the great ways propane equipment and appliances make your home life great, you need propane. Thomas Brothers can help with that!
With Thomas Brothers, you get your propane delivered as you want it. We offer peace of mind with our automatic propane delivery. Our computer systems will assist in monitoring your estimated propane usage alongside the current weather conditions. From here, we'll accurately schedule a propane delivery before you ever run low. No more worrying about propane run-outs!
You're going to need a propane tank too, and we've got you covered there as well! We offer leasing of propane tanks for our propane customers so they know they have a reliable, safe and well-maintained propane tank.
With reliable, safe propane delivery and installation of propane tanks from Thomas Brothers Oil & Propane, you can experience the benefits of propane in your home, or at your business, today! Contact us to get started. We service Alamance, Caswell, Orange, Person, and Rockingham Counties in North Carolina. We also serve and Nottoway, Brunswick, Dinwiddie, Lunenburg, Mecklenburg and Prince Edward in Virginia!