Propane Tank Installations in North Carolina
Need a propane tank installed or replaced? Thomas Brothers can handle jobs both big and small!
Why would someone need to install a new propane tank at their home? There are lots of reasons, including:
The addition of propane appliances like furnaces, water heaters and fireplaces
A new construction home that will use propane for heating, cooking and more
A larger propane tank is needed to meet increased propane demand
If you need a new propane tank at your home, you can count on Thomas Brothers for safe, expert propane tank installation done right. And we provide propane tank repair on every tank we install, if you need it.
What size propane tank do I need for my home?
With close to 100 years of experience working in propane, the professionals at Thomas Brothers have the insights and knowledge that will make sure that the propane tank we install at your home is the right size for what your family needs and your propane usage.
Each home and family has unique needs when it comes to propane. While you and your best friend may have the same size home, you may need more propane because you use it for cooking as well as for heating. We'll carefully review how you use propane so you'll have the right size tank.
And you can also count on us for reliable, safe propane delivery!
Here's a guide on the sizes of the propane tanks we install so you can make an informed decision when it comes time to install your new propane tank.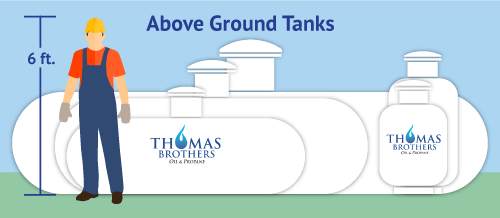 We offer propane tanks ranging from 120- to 1,000-gallons in size!
100-pound propane tank: This is the smallest tank we install. It's for only one appliance, like a range, a cooktop or an indoor propane fireplace.
120-gallon propane tank: If you use propane for water heating or space heating, this is a good size for you. It also has enough storage so you can also run a propane range or clothes dryer.
150-gallon propane tank: This tank is for you if you have two or three low-Btu appliances such as water heaters, ranges, cooktops, wall heaters and space heaters. However, it is too small for whole-house heating.
250-gallon propane tank: If you use propane for three or more propane appliances, this is the size tank to look at. It is too small for whole-house heating.
500-gallon propane tank: Do you heat your home with propane, and maybe use it for other appliances like ranges, water heaters and fireplaces? This is likely the size tank you will need.
1,000-gallon propane tank: This tank is 16 feet long and is for large homes with propane whole-house heating, several propane appliances and possibly a propane pool or spa heater.
Thomas Brothers Oil & Propane is your local go-to for propane tank installations. We service Alamance, Caswell, Orange, Person, and Rockingham Counties in North Carolina! Get in touch with us and we'll get to work for you.