What Size Propane Grill Should I Buy?
When It Comes to Outdoor Cooking, Size Matters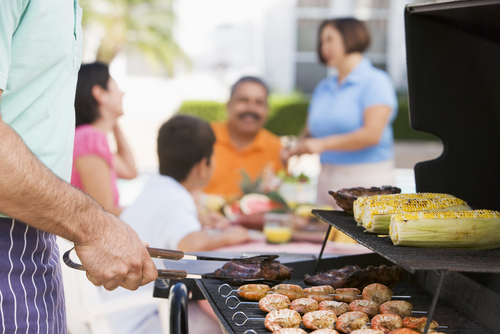 With Memorial Day in the rearview mirror, grilling season is officially in full swing. And maybe you're thinking your old grill is just not cutting it any more. Whether you're ready for an upgrade to a grill with more features, or your old grill is just, well, old, we have a great selection of propane grills from Phoenix to help you make the most of summer.
How To Decide On The Right Grill
Many people come by the showroom and want to know what size grill they should buy. But to answer that question, you need to answer a few others. Here's what to consider:
1. How much space do you have?
If you have limited space on your deck or patio, you don't want to fill the whole thing with a grill. Freestanding grills tend to offer more compact options that are still loaded with features. The benefit is that you can move them, so they are out of the way when you aren't using them. Location is important, too, especially if you're opting for a built-in grill with a line directly to your propane storage tank, instead of using a refillable propane cylinder.
2. How often do you grill?
If you fire up the grill almost nightly during the warmer months, you may want to take advantage of the extra features that come with a bigger grill, such as more areas for indirect heat. If you don't grill all that often, a smaller grill is probably fine.
3. What foods do you like to grill?
Again, if you stick to the basics—burgers, hotdogs, maybe some corn on the cob or drumsticks, a smaller grill may suit your needs. If enjoy grilling a wide variety of foods—fruit, fish, steaks, kebabs—a larger grill will work better and allow you to experiment more.
4. How many people do you usually cook for?
If you're generally cooking for just your family, you may not need as big a grill as you might want if you like to play host for big crowds.
Now that you've answered those questions, you might have a pretty good idea of what size grill would be best for you. Here are the basics of grill sizes:
Small: A small grill is generally no more than 26 inches. It's probably perfect for you if you're doing basic grilling for a small family. While you won't get as many temperature zones for fancier cooking, you do have the space to grill about a dozen burgers at once.
Medium: Medium grills typically run from 27 to 33 inches. They give you just enough extra space to grill foods that benefit from indirect heat. This size category also features a few more bells and whistles, such as rotisseries and side burners that let you sear, steam, roast and grill.
Large and extra-large: This class covers grill widths from 34 to 42 inches and larger. Not only can you turn out large quantities of food, you can cook different foods or courses at the same time, and take advantage of all the accessories, including infrared sear zones and warming racks.
Visit our Yanceyville showroom to see all your options—and talk to our pros. We know propane, and we love barbecue, so we can answer all your questions and help you choose the grill that will help make your summer gatherings and family diners the best. Contact us or stop by today.