Propane Delivery for Danville, VA and Nearby Communities
Thomas Brothers Oil & Propane is the company you can trust!
If you've been looking for reliable propane delivery and equipment service for your Danville home, you've come to the right place! Since 1921, Thomas Brothers Oil & Propane has been the area's leader for dependability and quality work.
Thomas Brothers Oil & Propane
1629 Main Street
Yanceyville, NC 27379
336-694-4111
Hours:
Monday: 8am – 5pm
Tuesday: 8am – 5pm
Wednesday: 8am – 5pm
Thursday: 8am – 5pm
Friday: 8am – 5pm
Saturday: Closed
Sunday: Closed
What propane services does Thomas Brothers offer?
Local, reliable Propane Delivery with available Automatic Delivery options, and more.
24-hour emergency propane delivery services—if you experience a run-out, we'll be there to help!
Professional Propane Tank installations, sales, and service.
Convenient Pricing and Payment Options like our Monthly Budget Plan to help you better control your propane costs.
Expert Installation, Repairs and Service of propane heating systems, fireplaces and hearth products, gas logs, water heaters, and outdoor living appliances to keep you comfortable all year long.
Piping and hook-up's for propane whole-house generators.
Danville has long history—and a bright future.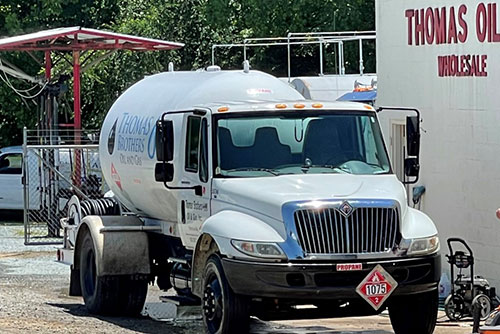 Danville became a major community in Southern Virginia thanks to railroads, textile mills and tobacco processing.
Today, the city offers a good quality of life with a thriving arts scene, museums, outdoor activities like walking trails, and home options ranging from single-family houses to downtown loft living.
Notable residents and natives of Danville include:
The country singer Ricky Van Shelton, best known for his songs "Rockin' Years" (a duet with Dolly Parton), "I Am a Simple Man," and "Don't We All Have the Right".
Wendell Scott, the first Black driver in NASCAR history, whose life story was the inspiration for the Richard Pryor movie Greased Lightning.
Nancy Astor, Viscountess Astor, who was the first woman seated as a Member of the British Parliament, serving from 1919 to 1945.
Camilla Williams, a soprano who was the first Black person to sign a contract with a major American opera company, the New York City Opera.
Tony Womack, an infielder who won a World Series in 2001 with the Arizona Diamondbacks, was a 1997 All-Star and was the National League leader in stolen bases three separate times.
Danville, VA has nice things to say about Thomas Brothers!
"I fell in love with the people at Thomas Brothers Oil & Propane. From the first moment you speak to someone on the phone, they make you feel valued. They make sure to keep you informed throughout the whole process and treated me like family. Wonderful people to work with!" – Dee N.
"Best propane company I've ever had service with. Fast and friendly service. Good price. The only propane company I will ever recommend." – Steven N.
Get the best propane delivery and service in the Danville, VA area and nearby. Become a Thomas Brothers Oil & Propane customer today.