Propane Delivery in Blackstone, Virginia and Nearby Communities
Get local, reliable propane service from Thomas Brothers!
Thomas Brothers has over a century of expertise when it comes to propane and fueling services. Now, we're serving Blackstone and its surrounding communities with dependable, courteous fuel services, too! Whether you need propane delivery or propane appliance services, we take care of you like the neighbors you are to us.
Our Local Office:
Thomas Brothers Oil & Propane
112 W Broad St.
Blackstone, VA 23824
336-694-4111
Operating Hours:
Monday: 8am – 5pm
Tuesday: 8am – 5pm
Wednesday: 8am – 5pm
Thursday: 8am – 5pm
Friday: 8am – 5pm
Saturday: Closed
Sunday: Closed
What services does Thomas Brothers Oil & Propane offer?
Local, reliable Propane Delivery with available Automatic Delivery options, and more.
24-hour emergency propane delivery services—if you experience a run-out, we'll be there to help!
Professional Propane Tank installations, sales, and service.
Convenient Pricing and Payment Options like our Monthly Budget Plan to help you better control your propane costs.
Expert Installation, Repairs and Service of propane heating systems, fireplaces and hearth products, gas logs, water heaters, and outdoor living appliances to keep you comfortable all year long.
Piping and hook-up's for propane whole-house generators.
Discover everything that makes Blackstone, Virginia great!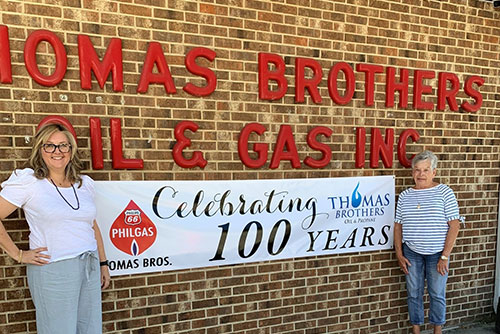 Did you know Blackstone wasn't always called Blackstone? Its first name was Blacks and Whites, after two rival tavern keepers. One was named White, and the other one was named Schwartz, which is German for "black." It was renamed Bellefonte in the 19th century to match the name of the local train station, then again named Blacks and Whites, and finally named Blackstone in 1886.
The Schwartz Tavern, built-in 1798 and added onto in 1840, still stands, fully restored and open for tours. It is on the National Register of Historic Places.
Blackstone was the home of Camp Pickett (later Fort Pickett), which was a large training center for the U.S. Army during World War II. It is currently the Army National Guard's Maneuver Training Center.
Some notable natives and residents include:
The actress Bea Arthur, best known for her role as Dorothy on the classic sitcom Golden Girls, who studied at Blackstone College for Girls and was active in the drama program there.
Robert Jones, a linebacker who was a consensus All-American at East Carolina University and who went on to win three Super Bowls with the Dallas Cowboys in the 1990s.
John A. Tyree Jr., a vice-admiral who earned the Navy Cross twice as a submarine commander during World War II and also commanded the combined Latin America-U.S. naval blockade of Cuba during the Cuban Missile Crisis.
James Cannon Jr., a Methodist Episcopal Church bishop who became a leader in the temperance movement that led to Prohibition.
Blackstone residents love Thomas Brothers!
"Thomas Brothers really came through for our family! We recently moved into a house with propane and had not yet called them for a checkup when we ran out of propane for our hot water heater. The office got us set up with an account and same-day delivery. Danny and Stevie came out to our house that afternoon. Got us filled us up, showed me how to check the gauge, and set me up for Automatic Delivery so we can be taken care of in the future. They didn't leave until they had guaranteed that hot water was coming through the taps. They were friendly and knowledgeable, and we certainly appreciated their help!" – Ellen M.
"Wonderful company with a terrific staff! Quick to make deliveries!" – Cora W.
Get the best propane delivery and service in Blackstone, Virginia! Become a Thomas Brothers customer today.