Propane Delivery for Residential Customers in Anderson, NC
Flexible Propane Delivery for Customers in Caswell County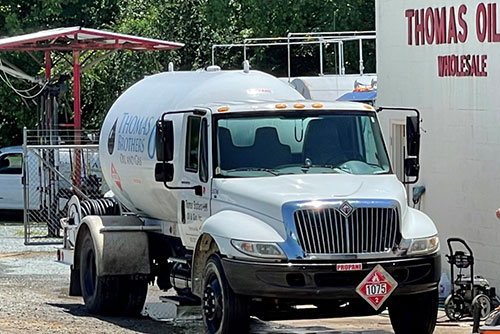 Families and businesses in Anderson and across Caswell County know they can trust our team of skilled professionals. We believe that loyalty is a two-way street, and that's why we're always looking for new ways to show our customers how much we appreciate them. We understand that time is precious, which is why we're dedicated to providing prompt, quality service that exceeds our customers' expectations. We take pride in our work, and we're dedicated to delivering reliable and efficient propane delivery services to our valued customers.
With our full-service approach, you can trust that we'll handle everything from propane delivery to propane appliance installations, maintenance and repairs, all in one place.
Our well-trained team of professionals is committed to providing you with the highest level of service and support every time.
Our focus on delivering quality propane at a fair price is what has allowed us to build long-lasting relationships with our customers, who trust us for reliable, cost-effective services.
Our access to reliable propane suppliers and ample resources allows us to provide dependable propane delivery services even when demand rises and other companies fall behind.
With our online payment portal, you can quickly and easily pay your invoices, saving you time and simplifying the billing process.
Why wait? Contact us today to experience the best propane delivery service around!
Reviews
Don't just take our word for it – hear from our happy customers about their positive experiences with us.
Contact Us
We want to provide your Anderson household with the most dependable propane delivery around. Reach out today to become a customer.
About Us
We are a family-owned and operated business with deep roots in the community, and we take great pride in serving our fellow residents.
NOTE: Propane emergencies require immediate attention. In the case of an emergency, don't email us. Call us at +1-336-694-4111.
Address:
Thomas Brothers Oil and Propane 1629 Main St, Yanceyville, NC 27379
---
Phone:
+1-336-694-4111
---
Hours:
Sunday: Closed
Monday: 8:00am – 5:00pm
Tuesday: 8:00am – 5:00pm
Wednesday: 8:00am – 5:00pm
Thursday: 8:00am – 5:00pm
Friday: 8:00am – 5:00pm
Saturday: Closed
Thomas Brothers Oil and Propane Services
PROPANE
On-site propane delivery to your home.
Professional propane tank installation.
Commercial propane services for your business.
PROPANE TANK
Professional propane tank installation.
Propane tank maintenance services.
On-site propane tank removal.
FORKLIFT
Forklift cylinder propane tank exchange program.
Contact us for more forklift propane cylinder services.
GENERATOR
We provide on-site generator installation.
Generator maintenance services to keep your generator running smoothly when you need it most.
Call us for professional generator services.
COMMERCIAL PROPANE
Commercial propane for fleet fueling and more.
Easily schedule a commercial propane delivery today.
On-site commercial propane tank installation, scaled to your business.
Bulk propane delivery and services save you money.
AUTOGAS
Propane autogas for your fleet fueling needs.
Competitive propane autogas prices save you money.
Check to see if our propane autogas locations are near you.