How Energy Efficient Are Propane Gas Logs?
4 Reasons a Propane Gas Log Set Is More Efficient Than Wood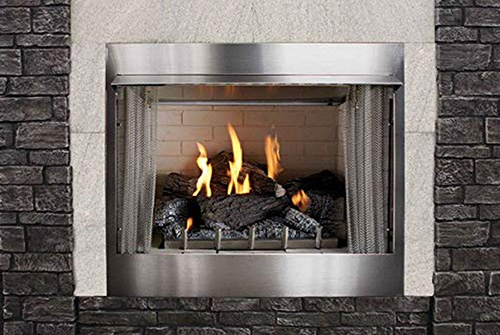 Nothing adds more cozy charm than a crackling fire. But as a source of supplemental heat, a wood-burning hearth is a lot of work. Logs, kindling, matches, smoke, and ash: What a mess…and what a hassle! It's one reason many people have installed propane gas logs to replace their old-fashioned fireplace.
It's easy to understand why. They love the convenience! Simply flip a switch and the flame goes on—or off—with no more worrying about smoldering embers or cleanup. But the biggest surprise for most customers is just how efficient a propane gas log hearth is compared to a wood fire.
Propane Logs Are as Versatile as They Are Efficient!
Fact: A propane fireplace runs at or around 80 percent efficiency. That makes it four to five times more efficient than a wood fireplace. Here's why:
1. No Chimney. A big reason a propane gas log is more efficient than a wood fire is that it doesn't need a chimney. A wood fire requires a chimney to burn safely, but in addition to pulling smoke and combustion gasses out of your space, as much as 90 percent of the heat is sucked up the chimney as well. What's more, if your home is well sealed, you may need to crack open a window or use a vent, letting cold air in to ensure the fire has enough oxygen to burn.
On the other hand, a propane log set using direct venting only needs a single dual-chambered pipe directly through a wall to the outdoors. The pipe simultaneously draws air for the fire from the outdoors, while it expels the fire's combustion byproducts to the outside.
Ventless models have a regulator that produces a fine gas-air mix that allows the gas to burn cleanly. You don't even need a chimney or a flue! That means all the heat stays in the room, instead of going up and out the chimney.
2. Better Control. With today's propane logs, a remote control and a thermostat let you dial up precisely the heat you want. This is great not only for controlling temperature, but for controlling your propane usage. Those electric igniters are also more efficient than a standing pilot light.
3. Better Heat. A propane gas log can come with a multispeed blower to push warm air into the room, providing better, more even heat—especially in great rooms and other larger spaces.
4. Less Work. Lastly, they let you spend time enjoying time with family and friends, not tending a fire—how efficient and valuable is that?
Looking for the Perfect Gas Log Set? Visit Thomas Brothers Today.
It's easy to convert a traditional fireplace to a maintenance-free, efficient propane hearth with a gas log insert. Thanks to minimal space requirements between the fireplace and wallboard or wood, a gas hearth can be installed almost anywhere. That means you can incorporate cozy charm into just about any room, including living rooms and family rooms, but also kitchens and dining rooms.
Create your dream master suite or a spa-like bathroom escape, just by adding a gas fireplace!
Thomas Bros. sells and installs a great selection of propane hearth products from top manufacturers including Empire and Rinnai. Let our professionals show you how easy and affordable installing a gas fireplace or stove can be! Contact us for more information or stop by our Yanceyville, NC showroom today.