How Long Will 100 Gallons of Propane Last?
It's Not How Much You Have, It's How Much You Need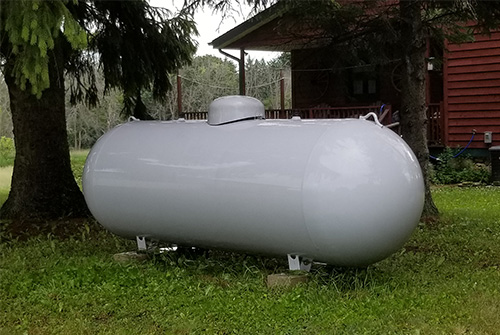 If you're looking to install propane at your home, you may wonder how much propane you'll need, what size tank to get and how long a tank of propane will last. It all comes down to how much propane you need. Since propane doesn't have a shelf-life, it won't degrade or spoil if you don't use it in a set amount of time.
The trick is finding that "Goldilocks" tank, with a capacity that's "just right" to keep your propane appliances running without having to order refills too often. At Thomas Bros., we've got a century of experience with propane, and helping homeowners and businesses get set up with a propane tank and service that's the perfect fit for their needs.
What are you using your propane for?
Based on data from the U.S. Energy Information Administration, which finds the average American propane-heated home uses about 750 gallons each winter. Of course, the age and efficiency of your heating equipment and other appliances will make a difference in how much propane you need, but different appliances burn propane at different rates, regardless of how efficient they are.
Other factors affecting propane use are the size of your home and how many people are living in your household.
If you're needing to fill up more often than every six to eight weeks, you might need a larger tank. For most customers, a tank that needs filling between two and four times per year is about right.
Size Matters
Propane tank size is usually given as their water capacity volume in gallons. The exception is portable tanks, which are often referred to in pounds. Since propane is stored in a liquid state under pressure, it needs room to expand into a vapor. That's why propane tanks are "filled" to 80% of its water capacity. For example, a 120-gallon tank will hold approximately 100 gallons of propane when completely full.
Here's a general guide for the best size tank for your needs:
40- to 100-pound cylinders: If you plan to use propane for a gas grill, patio heater, outdoor cookstove or for an RV, a refillable portable cylinder tank is what you want. 
120-gallon propane tank: This size tank is perfect if you only use propane just for water heating or space heating, or to fuel a range or clothes dryer.
150-gallon propane tank: If you have one or two low-Btu appliances, such as a water heater, range, space heaters, wall heaters or clothes dryer, this tank should provide ample propane.
250-gallon propane tank: For three or more propane appliances like ranges, water heaters or fireplaces (but not a furnace or boiler) you may need to go up to this size.
500-gallon propane tank: This is the minimum you'll need if you heat your home with propane. You'll have enough propane to also fuel appliances including fireplaces, ranges and water heaters.
800- to 1,000-gallon propane tanks: For a large home or small commercial business heated with propane that also uses several propane appliances as well as high-Btu propane appliances like pool and spa heaters, you will need this capacity.
The Bottom Line:
If your propane storage tank is too small, you'll need to order propane too often—or risk the cost and hassle of runouts. Getting a huge tank means you'll need fewer refills—and you may be able to avoid or lessen the sting from price spikes. But, a bigger tank is, well, bigger: you'll need space to bury it. And if it's above-ground, a huge tank can be less attractive.
Our pros will make sure you get a tank that makes sense for your home. We can also set you up with convenient automatic delivery service and a tank monitor, so you don't have to think about scheduling a delivery at all. Contact us for more information and to become a customer today.